A Modern Classic
---
---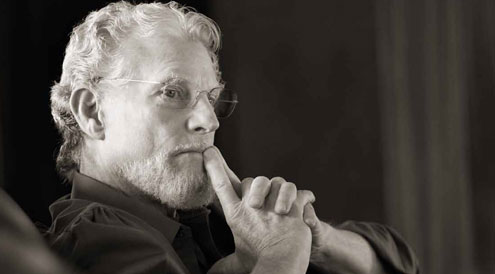 Some call him a visionary and others consider him a businessman extraordinaire. Both designations ring equally true when you meet Bill harlan in person. This is a man with a strong sense of purpose – a man whose piercing look has an intensity that creates waves of energy around him. Harlan, a successful real estate developer in 1984, had the vision of crafting a 'First Growth' Napa Cabernet from 240 acres of hillside terrain in Oakville, California. At the time no one thought this land could produce wines that would rival the best in the world and sell for over $1,000 per bottle.
In addition to finding opportunity where others do not, a true visionary is a long-term thinker. Harlan is someone who lives for the generations yet to come. Whether he is talking about his children or his exciting new winery project – Promontory – Harlan is creating, building and involving himself in projects that he knows will go well beyond his lifetime. After the purchase of the land in Oakville it took a dozen years and the establishment of vineyards on 40 out of the 240 acres to release his first vintage – Harlan Estate 1990 – in 1996.
Throughout this period there were plenty of challenges: clearing the forest to plant the vines, dealing with the extremely rocky terrain and coping with the phylloxera aphid, a pest that feeds on the roots and leaves of grapevines effectively killing them. From 1988 to 1995 approximately 80% of the vines had to be replanted. "We started out with 300 cases in the beginning," says Harlan. "we now average around 2,000 cases…but no more."
The second label, a 1,000-case production, called Maiden is – according to Estate Director – Don Weaver, "…a barrel selection of the same estate vineyard." Says Weaver, "Sometimes as much as 50% of all the wine we make is sold in bulk."
The same quality philosophy extends to Bond, a winery that is now just over a decade old. Bond's portfolio includes five vineyard-designated wines: Melbury, Quella, St. eden, Vecina and Pluribus. Like Harlan Estate, Bond wines are made with grapes sourced from hillside vineyards.
However, Harlan isn't just interested in placing new cult wines into the market, he espouses the luxury wine experience. The Napa Valley Reserve, with 500 members, is a private wine club with a hefty membership fee (over $150,000) which gives its constituents access to the club's facilities, as well as wines produced through the Reserve.
Harlan doesn't travel much, he sends Weaver on his behalf. These days there is more travel to Asia. "You shoot where the birds are," says Harlan. With a smile, he adds, "…and the birds are clearly in Asia. Over the next 25 years, it will be the most important market. The market [in Asia] is tough now and we may be fighting against the tide but when it turns…we want to be there. By being there, we have the best chance for being a leader."
In October 2010, Harlan Estate held an unprecedented vertical tasting of 14 vintages at Robuchon a Galera (a three Michelin-starred restaurant in Macau) starting with Harlan's first vintage, 1990. There were plenty of surprises at this tasting – collectors from around the world flew in specifically to attend the dinner. The 1990 was incredibly youthful with a long life ahead of it, proving just how well Harlan wines age. The wines expressed different facets of Harlan's personality, from the riper 1997 to the lighter, more feminine 1999.
It was Weaver rather than Harlan who hosted the tasting that evening. The wines were of exceptional quality and for those who have met Bill Harlan, it was easy to imagine his zen-like demeanor and thoughtful personality reflected in their glasses. The calm, methodical way in which the components are woven together allow the wines to possess an unnerving intensity – much like the man behind their creation.
Reprinted with permission from Private Journey Magazine