A Cheesemaker's Wine-Pairing Guide
---
---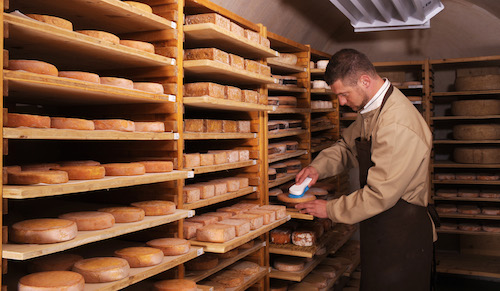 To learn the basics about cheese, Jean-Francois Antony, from a family of French artisan cheesemakers at Fromagerie Antony, suggests getting familiar with five basic types:
1. Comté – Antony suggests starting out with Comté that is not too old, just one or two years old; older ones are better appreciated by connoisseurs. Vin Jaune, yellow wine made from late-harvest Savagnin grapes, is a classic pairing recommendation. Antony also says mature Sauternes work as well as Riesling.
2. Camembert comparison – Antony suggests buying two Camemberts, one that is AOC (superior) and one that is not AOC (inferior). He strongly believes that Camembert and red wine is a terrible pairing. Reds get a metallic taste with Camembert and can make the tannins taste very hard. He says unoaked whites are best, but it can work with Beaujolais or Alsace Pinot Noir. The best option? No wine at all with Camembert, he suggests.
3. Roquefort – Best pairings are with Sauternes or late harvest sweet wines from Alsace. The strong salty flavours are complemented by the sweet honey flavours of late harvest types.
4. Charolais goat cheese – The best wines are white; try white Alsace or white Burgundy. Because of its fat and creamy style, it pairs well with Chassagne Montrachet.
5. Reblochon – This is one of the easier cheeses to pair with wine. It works with white Burgundy and can pair equally well with lighter red wines like Pinot Noir. When selecting red Burgundy, try a Côte de Beaune or Volnay. If the Reblochon is older then the wine should be stronger in flavour too.
Final thoughts and tips on buying cheese:
When buying the best cheese, make sure it looks mature but not too mature.
When cheese starts to be cut, it needs to be consumed within two weeks. Never keep cheese for more than two weeks in the fridge.
The moment to buy cheese is in summer or early autumn. Try to buy cheese made in the summer months.
Serve cheese at room temperature, around 20˚C for most cheese, except for a few like Rocquefort, which should be cooler.
Like wine, only very good cheese can be matured, which is a tiny percentage of total cheese production.
Other places for great cheese besides France are Switzerland – and for hard cheese, Italy, UK and Spain.
To buy quality cheese, buy from a 'cheese professional' says Antony. But when reminded that cheese professionals are rare in Asia, he replies, "Try to buy from gourmet grocers or shops that import the best cheese."
Remember that supermarket cheese is good for one main purpose: sandwiches.