2009 En Primeur - A sound Investment?
---
---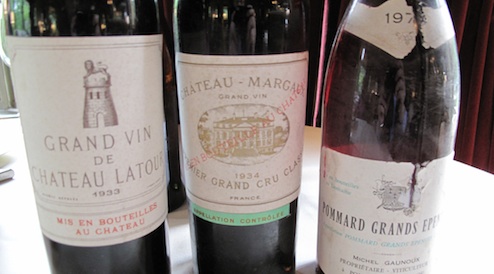 In March, I arrived in Bordeaux to taste the infant 2009s in barrel and was expecting to be underwhelmed by yet another so-called vintage of the century. I had read the hype about Bordeaux' near-perfect growing conditions in 2009 but I couldn't believe another phenomenal vintage had arrived so soon after the highly regarded 2005 and the 2000 vintages. I especially didn't want to like Lafite (too many people beating its drum) and met Charles Chevalier, manager of Lafite, with my sternest professional hat on.
But after two weeks of tasting over 400 different wines, I was duly won over. The best wines were majestic, monumental and left me speechless. I warily entered chateau Lafite but left with a big smile on my face – the wines had that Bordeaux magic that occurs in the best vintages among the best wines. If someone had taken photos of me leaving Haut Brion, Latour, Pichon Lalande and Montrose, they would have seen the same silly smile.
The annual Bordeaux en primeur (futures) tasting, held every spring, is essential for sizing up a wine's future potential—both for drinking and for investment. If a wine is good, prices escalate once the wines are bottled. When I tasted the 2009s in march this year, I discovered that the 2009 reds are not that dissimilar to the 2005s in their ripeness, but they have greater detail and power for longevity—in fact they're at a higher-octane level, with greater concentration and depth than the 2000 vintage. The one drawback is that the 2009s showed less consistency across the board, particularly compared to the 2005s. This is clearly a cabernet sauvignon vintage and overall, the left bank wines from the Medoc and graves did better than the right bank wines such as those from St Emilion and Pomerol. But alas, the very best 2009s are for our children and grandchildren as wines like Calon Segur, Margaux and Petrus are not destined for our wine glasses anytime soon.
The question that plagues me now with the 2009 en primeur prices having just been released is: in whose cellar will these 2009s be found a generation from now? Prices in 2009 are breaking all records, just as they did in 2005 and in 2000. A comparison of prices highlights this perfectly – ten years ago, for the 2000 vintage, futures of Cos d'Estournel were priced at around 50 euros and Latour at around 200 euros a bottle. That was considered very, very expensive at the time. Now we're lucky to get 2009 Cos at 300 euros and 2009 Latour at 1,000 euros!
During the wine exhibition Vinexpo in Hong Kong a few months ago, I was warned by both French wholesalers and local fine wine merchants that many Chinese buyers armed with open checkbooks, were ready to buy the best 2009s at any price. I was also warned about the return of the Americans after several years away. But little did I expect that four-digit priced wines (five-digits in Hong Kong dollar prices) would be flying out the door of fine wine merchants around the world. Pontet Canet, a great wine that used to be great value was a mere 20 to 30 euros about ten years ago; its 2009 vintage is now being traded at close to 100 euros!
I can't help but feel that many of those buying the 2009s are not true wine lovers but speculators and traders who first look at the millionaires emerging from China, India and elsewhere around the world and then at the limited supply of the top wines of Bordeaux and think they have a sound investment in their hands. No rational wine lover would pay the astronomical 2009 prices when there are so many fantastic vintages available in the market at a fraction of the price and offer immediate drinking pleasure! Why would you pay 200 euros for 2009 Ducru Beaucaillou when you can buy the lovely 2001 for only 59 euros and the powerful 2000 for 130 euros? I would buy the 1999 Chateau Margaux for 250 euros versus nearly 1,000 euros for the 2009 any day!
Reprinted with permission from the South China Morning Post