Singapore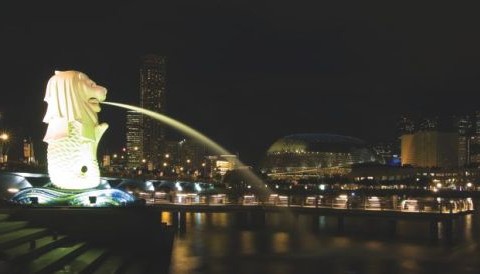 SNAPSHOT
| | |
| --- | --- |
| Population | 4.4 million |
| Cuisine | Singaporean, a unique mix of Chinese, Malay, Indian, Peranakan, Indonesian and European influences |
| Signature dishes | Chilli crab, black pepper crab, prawn noodle soup, fish head curry, fried rice vermicelli noodles, pork bone soup (bak kut teh), Singaporean-style Hainan chicken rice |
| Wine culture | One of the most mature wine markets in Asia with an established network of wine connoisseurs and professionals |
| Wine duty | Approximately US$5 per bottle plus 7% goods and services tax (GST) |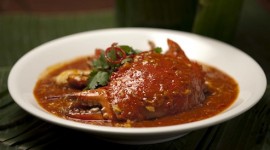 SINGAPOREAN CUISINE
In Singapore, it is hard to define where Chinese or Peranakan influence ends and where Malay or Indian influence begins. This wonderful melting pot of cultures and cuisines can take something as simple as noodles and infuse it with wonderful spices such as turmeric, tamarind, chilli and galangal, resulting in a dish that is neither Malay, Indian nor Chinese, but uniquely Singaporean. Its traditional food fare is considered predominantly Peranakan or Nyonya cuisine and includes dishes such as beef rendang, sambal prawns and asam fish head curry.
It is very common in Singapore to find several dishes representing different types of cuisine in one restaurant list. Hotel coffee shops, food halls and local kopitiams (traditional breakfast and coffee shops) feature perennial favourites. Hawkers' stalls are more specialised and Singaporeans will go out of their way to eat the best bak kut teh, laksa or prawn mee soup.
Chinese food forms the base of Singaporean cuisine and includes a range of cooking methods and regional styles, such as Cantonese, Hokkien, Sichuan, Shanghainese and Teochew. There are numerous Singaporean versions of regional favourites such as Hainanese chicken rice or yong tau foo (beancurd stuffed with minced fish and vegetables). These differ from the original in the greater intensity of flavours – for example, the Singaporean version as opposed to the original Hainan-style dish involves serving hotter chillies and darker, more flavourful soy sauce with the boiled chicken. Singaporean taste buds, often used to stronger, more robust flavours, will often reach for the soy sauce with sliced chili, or chilli sambal, to go with their every meal.
Peranakan or Nyonya food, the country's indigenous cuisine, blends Chinese and Malaysian ingredients and cooking methods. Combinations can include oyster sauce (Chinese influence) with coconut milk and toasted peanuts or belacan (prawn paste) with ginger and garlic. A classic Peranakan dish is otak-otak, a coconut based fish dish, seasoned with galangal, chilli paste and other herbs wrapped in banana leaf and grilled over flames.
Although Indians make up less than 10% of the population, their long-term presence is felt in their strong influence on food. The majority of Indians in Singapore are Tamils from the southernmost state of India as well as Sri Lanka. Southern Indian-style banana leaf restaurants abound – using banana leaf as the 'plate', a pile of rice forms the base and enjoyed with a wide selection of spicy fare. This can include pappadom (thin, crispy wafer), chicken or prawn masala, marinated vegetables and spicy curry dishes. Traditionally, the meal is eaten with hands, but in Singapore, forks and spoons are more often used.
FOOD & DINING CULTURE
Singaporean food is southeast Asian fusion food at its best. Spices from India combined with coconut from Thailand meet yellow Hokkien noodles stir-fried Cantonese-style in a hot wok and served with lime and sambal-chilli sauce, a Peranakan favourite condiment. Many of these dishes have evolved from the roving hawkers who sold popular snacks off carts that rolled through kampungs (villages). They became fixed roadside hawkers serving everyday staples that ranged from stuffed roti prata (flaky Indian bread), nasi lemak (coconut rice with peanuts and sambal), satay to Hokkien mee (thick yellow noodles).
The Singapore government's zealous adherence to strict hygiene standards meant that most of the roadside stalls were brought indoors in the late 1980s. Under state auspices and fairly low rent, a filling and flavourful meal can be had for US$2 to US$3, often in an air-conditioned, clean environment. Food lovers are spoilt for choice in any of the city's over 100 hawker centres and eating out is often cheaper than cooking at home.
Surrounded by water, seafood features highly in the Singaporean diet – whether it is fried noodles with shrimp or fish head curry or crispy fried sotong, squid. Many seafood items are combined with hearty Hokkien sauces to create dishes such as Hokkien mee with squid, prawns and vegetables cooked with a generous brown sauce. While the majority of Singaporeans are Hokkien, there are very few Hokkien restaurants in the city. But its influence on hawkers' food is evident in such popular dishes as popiah (crêpe-filled spring rolls) and Hokkien bak ku teh (boiled pork ribs in seasoned soup).
Fine dining must compete with the amazing value of local fare – tasty everyday food at very low prices. Not surprisingly, local food is rarely found in fine dining outlets. Most of these upscale venues have European characteristics with wine featuring prominently at the table. Several decades ago, hotels headed the fine dining movement but independent restaurants quickly followed. Since the 1990s, Singapore has built a reputation for world-class restaurants led by Les Amis, Gunther's and Iggy's. Its talented chefs who openly embrace multi-cultural influences in their cooking are attracting attention regionally – Justin Quek is Singapore's most prominent chef to export his skills to China. His marriage of French cooking with strong Asian influence reflects Singaporeans' openness and very practical attitude about food – if it tastes good, they will embrace it.