Romantic Dinners In Hong Kong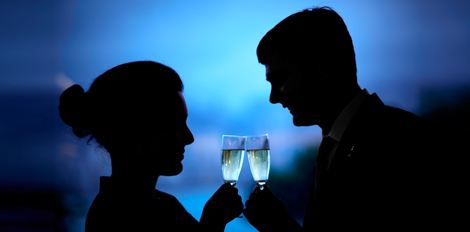 Now that the decorations for Chinese New Year are down, the city is preparing for the most romantic festival of the year: Valentine's Day. Some couples may choose to keep it low-key and believe that everyday can be Valentine's Day as long as you get to be with the one you love. But surrounded by images of roses, heart-shaped chocolates, romantic songs and candlelight dinners, it is difficult to resist being in romantic mood.
This year's Valentine's Day is extra special for the Chinese community because the Lantern Festival falls on the same day. While there are distinctly different ways of celebrating this special day in each province of China, Hong Kong offers a wide variety of celebrative activities that combine the best of both Western and Asian traditions.
In light of this romantic occasion, Asian Palate recommends a few restaurants in Hong Kong offering romantic ambience and delicious Valentine's Day menus that can enhance the spirit of love and make this a special day to celebrate with the one you love.
1. Shang Palace @ Kowloon Shangri-La
When couples want to go for a romantic dinner, the first thought that comes to mind is often French cuisine. But for those who prefer Asian cuisine, consider Shang Palace, a two-Michelin-star restaurant offering this tempting Chinese cuisine menu:
Chilled Baby Lobster with Passion Fruit Sauce
Double-Boiled Chicken and Silky Fowl Broth with Sea Conch served in a Mini Coconut
Baked Pigeon filled with Foie Gras Paste
Baked Cod Fillet and Bamboo Charcoal Noodles with Sea Urchin Sauce
Shang Palace Trio of Desserts
Price: HK $1,388 for two people
Available Date: 13 & 14 February 2014
2. Amber @ The Landmark Mandarin Oriental
For couples who prefer Western cuisine on Valentine's Day, we strongly suggest Amber at the Landmark Mandarin Hotel. Not only has Amber been awarded two Michelin stars in the past six years, but it is also the only restaurant in Greater China to be selected as one of The Best 50 Restaurants in Asia for two years in a row. It is due to the effort and innovative interpretation of French cuisine by Chef Richard Ekkebus and his team that Amber has obtained such a status. Richard blends traditional French cooking with the finest ingredients and a his own unique modern flair. For Valentine's Day Richard presents a special 8-course menu:
Canapes
Ebisu magaki oyster
Caviar
Foie gras
Normandy diver scallops
Line caught turbot XXL
Greffeuille triple A lamb
Amaou & white strawberries
Opalis white chocolate
Petits fours
Price: HK$2,688 per person
Available date: 14 February 2014
3. The Steak House winebar + grill @ InterContinental Hong Kong
1-Michelin-star restaurant, The Steak House winebar + grill, is well-known for its charcoal grill food. In addition, as its name "winebar" indicates, the restaurant also owns an impressive wine list, offering over 450 wines. A special menu by Chef Calvin Choi at the Steak House is perfect for meat-loving couples:
Deluxe Salad Buffet
Seared Hokkaido Scallops and Applewood Bacon Ball with Citrus Dressing
The combination of Australian G9 Wagyu Tenderloin, Japan A5 Hida Tenderloin and US Tenderloin (3 oz each) / Baked Boston Lobster with Black Truffle and Pesto
Price: HK$4,388 for 2 persons inclusive of 10% service charge
Available date: 14 February 2014