Macau's Iconic Egg Tart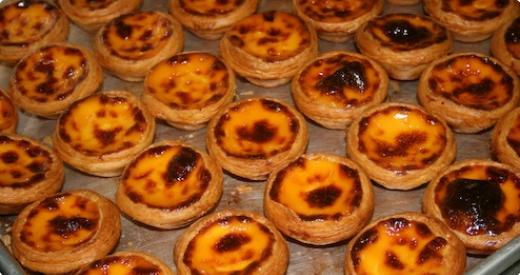 Simply mention Macau and mouths start to water. It is not for the sight of slot machines and gaming tables, but the happy anticipation of biting into a freshly baked egg tart.  These egg tarts are said to have their origins from Pasteis de Nata.  More than 200 years ago, Catholic nuns in the town of Belum, Lisbon in Portugal, made these tarts.  They created a puff pastry crust and filled them with a custard resembling Crème Brulee.  It has the burnt sugar on top, traditionally, eaten with a sprinkling of powdered sugar and cinnamon.
But today, tourists visiting the former Portuguese colony pay homage to
Lord Stow
and his bakeries selling these iconic tarts.  Andrew Stow moved to Macau in 1979 to work as an industrial pharmacist. The lack of good bread prompted him to start importing European baking products.  Eleven years, later he created a Portuguese tart filled with flour, egg, water, and cream.  What began as a humble bakery in Coloane, now sells 3,000 egg tarts on a lean day.  His bakery has expanded around Macau, Hong Kong, Taiwan, the Philippines and Japan.  
While you are bound to find egg tarts served in Chinese dimsum trolleys in Hong Kong, they are different from the Macau Egg Tarts. These have a brighter yellow color, more egg flavour in its filling, and uses a shortbread crust instead of a flaky puff pastry.  It also doesn't have the burnt caramel on top. 
Despite Andrew Stow's death in 2006, busloads of tourists continue to flock to Lord Stow Bakery.  In their minds, this is THE iconic Macau egg tart.  Despite its tremendous popularity, Portuguese residents in Macau insist it is nothing like the real Pasteis de Nata in Portugal.  Some say, "The custard should be less egg-y and much sweeter. And, the crust is different."  
Visiting the original Lord Stow bakery in Coloane, it is tantalizing to see trays and trays of egg tarts coming out of the oven.  Andrew Stow has passed away, with his sister and his loyal staff now continuing his legacy.  There is a buzz in the air, as tourists purchase several boxes to bring home.   Biting into the warm egg tart doesn't disappoint.  The crust is buttery. The custard is rich and creamy.  Like the many tourists, I have bragging rights to eating the iconic tart from the first Lord Stow Bakery.  
But Lord Stow is not the only one making these egg tarts. Bakeries around Macau sell them too, as well as some Portuguese restaurants.  Portuguese chef Gil Raposo of
the Four Season Macau's Belancao Restaurant
makes Pasteis de Nata in small batches for his hotel guests.  Its custard filling is richer and creamier. Its flavours taste more refined and polished, just like the setting it is served in.  
So, what makes for an authentic Macau egg tart experience?  Is it sampling it from a commercially successful bakery started by an Englishman or is it one specially created by a Portuguese chef?  Perhaps, this is irrelevant.  Food lovers should instead enjoy how this egg tart tradition continues to be celebrated in Macau.  
© Photo: Maida Pineda. Text: Maida Pineda
Posted 12 October 2010