Interview with Simon Berry, Chairman Berry Bros. & Rudd
Simon Berry, Chairman of Berry Brothers and Rudd (BBR) the London-based quality wine merchant, still family owned 316 years after it launched, recently visited Asia, where significant operations have been in place since the mid-1990s.
Asian Palate caught up with the seventh-generation Berry in Hong Kong – where BBR launched its Asian trading. The company recently severed ties with its Hong Kong business partner; meanwhile it has been adding more spirits to its wine-dominated inventory. But it was on wine that this interview's straightforward inquiring began.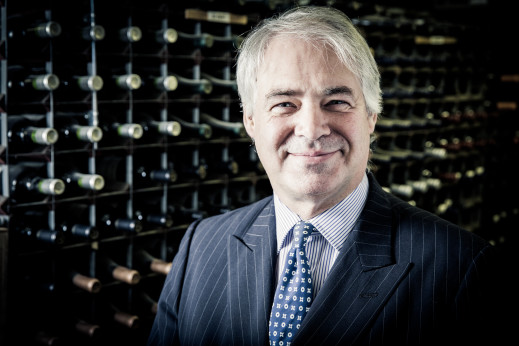 Simon Berry, wine and spirits is in the family. The BBR chairman began his career working at French wineries. 
AP – Asian Palate      SB – Simon Berry
AP: Some have commented recently that the Bordeaux wine world is in free fall; what's your opinion?
SB: It all depends on what they [Bordelaise wine producers] do about pricing. The 2014 vintage will create excitement – grapes were healthy and many are cautiously optimistic.
There is one chance left now – the 2012 and 2013 were overpriced, so people started talking more about Burgundy, Spain and everywhere else. We keep saying, "Look at the market!" Why would anyone want to buy at such high prices? It's not rocket science.
Reports of the market dropping off completely, are exaggerated though – they still make fantastic wine in Bordeaux. Some producers at the top of the tree though, are pricing their wine at levels they believe buyers would accept them to be.
AP: Any comments on dropped interest in Bordeaux in relation to diminished China demand?
SB: Interest is still good and hopefully, so was the 2014 [vintage]. And some producers have come up with more sensible pricing, so we'll have to see. 
AP: How have BBR's operations changed in Hong Kong since ending the  joint venture partnership here?
SB: We're 100 per cent run from London now – it's all going very well. We have five salesmen in Hong Kong who are constantly back and forth to and from China. Shanghai is our biggest market there and then Guangzhou.
AP: Is there any wine on the ground there?
SB: Not at the moment – Hong Kong is still the best way into China. Some of our Hong Kong staff focus on China sales; [taking this into account] our Hong Kong operation alone accounts for about nine markets.
AP: What are your latest plans for Asia?
SB: Singapore is our most recent location for operations; it's our hub for Southeast Asia – a lot of our business is private sales and investment and this is proving popular there. In Japan, we are doing well in wholesale sales, but not as well in private sales and investment. We have been looking at Korea –there are potentially exciting prospects, but wine is still something of a rich man's toy. There, and in other parts of Asia, so we are thinking about how to interact with people in terms of education, to make a mark that way first, before growing the business.
Our MWs [consultant Masters of Wine] help with this process, and become great roaming ambassadors for us. Simon Field speaks with enthusiasm on Southern French wines, and there are several others. And David Berry Green, with his stubble and taste for scarves is a charismatic travelling ambassador for Italian wines.
AP: Last year BBR reported a loss – why was that and how are prospects looking now?
SB: When we sold Cutty Sark [blended aged whisky], four and a half years ago, we went onto invest in niche spirits – we knew we would not make a profit for a period; it takes at least five years to cultivate. Also, we experienced three less-than-desirable vintages in claret, which affected our profits.
We are back in profit this year, and as planned this hardly affected our dividends.
AP: BBR recently launched the limited edition Exceptional Casks Collection; can you tell us a bit about this and whatever else may be in the pipeline?
SB: Spirits have always been a fascinating prospect in Asia – they dominated for years; wine then took over. But now, people are going back to niche spirits – interesting ones that not everyone will have heard of, instead of opting for the same ones that everyone knew years ago. So, we have looked for small productions – sometimes single cask, such as the Glenlivet 1972 – only 200 bottles will come from this, with 12 going on sale in Hong Kong. Parts of this collection are only available in London or in certain markets.