Interview with Florence Cathiard of Chateau Smith Haut Lafitte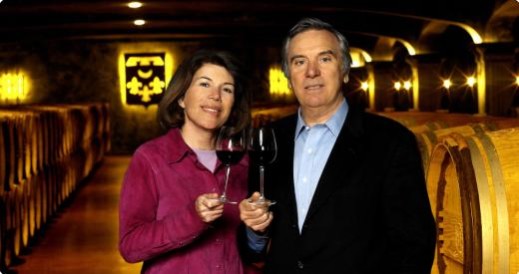 The owners of Chateau Smith Haut Lafitte, Daniel and Florence Cathiard, have invested massively in renovating both the winery buildings and the 18th century manor house since they acquired the property in 1990. They have a mission statement: "To do our utmost so that every vintage of our red and white wines reflects the full potential of our magnificent terroir".
From a recent conversation Asian Palate had with Florence Cathiard, we learned about what the SHL team does behind the scenes to ensure the quality of their wines, as well as the quality of their hospitality.
AP – Asian Palate                     FC – Florence Cathiard
AP: We know that you have updated your chai/cellar and vat rooms. Please describe the new changes and improvements and your purpose behind them.
FC: The major improvement of 2013 is the creation of what we named the Stealth Cellar. As Daniel says, "Our goal is to reduce our footprint. We have already planted miles of hedges, over a hundred trees, established 10 beehives and we practice the Bio Precision but there are always initiatives to reduce our impact." That's why we created this revolutionary Stealth Cellar. We want it to be invisible to energy consumption radars. It was built in a natural quarry according to the latest eco-friendly standards – energy production with solar panels, vegetal roof, Canadian well and other features which will become regular one day, we hope. But in addition, it will have the ability to capture carbon emitted during the fermentation process and turn it into sodium bicarbonate, which is a component of toothpaste. Over a hundred tons will be produced per year. Don't be mistaken, we are not planning to sell any SHL toothpaste, but this innovation shows that we can make good use of what has always been considered as a useless byproduct of the vinification. This revolutionary Stealth Cellar is dedicated to the young vines of Chateau Smith Haut Lafitte.
In the same time the facilities at Chateau Smith Haut Lafitte will be improved to make of our vat room and cellar even more of a jewelry case: smaller wooden vats, vertical press for the reds, enhanced grape reception area; all this 100% gravity operated.
AP: We understand you make your own barrels and have a cooperage on premise. When did you start making your own barrels and how does your own barrels impact wine quality?
FC: Yes we do have a cooperage on premise, and it is a rare thing among Bordeaux Châteaux. We started to make our own barrels in 1995 and it sure has an impact on the quality of SHL wines. As barrels play a major role in the aroma expression, structure, balance and length of the wines, we needed to create our own tailor-made barrels to match the unique profile of our wines. We manage the entire process, from the origin of the oak from the highest quality forests of France, to the drying process of the mérains (stave wood), and the crafting of the barrel with a precise toasting degree. Jean-Luc Itey, Master Cooper of the Château, works in close collaboration with Fabien Teitgen, Technical Director, and they often travel to the forest of Tronçay to select their trees. As a matter of fact, Colbert, Minister of Louis the 14th, used to choose the best oaks for the masts of the royal fleet in that same forest.
The Château on-site cooperage produces nearly 450 barrels a year, which corresponds to two thirds of our needs. The remainder is made by two outside cooperages, often with our own oak naturally dried. We continue to buy barrels from other cooperages to compare the taste differences with our own barrels.
AP: Please tell us about your new 5-star boutique hotel, Chateau Le Thil. What was the inspiration behind this new project?
FC: In 2012, Château Smith Haut Lafitte acquired 11.6 hectares of adjoining vineyards from the neighbor Château Le Thil. The wines of Château Le Thil now benefit from the same expertise and passion that guide my husband Daniel, the entire team of Château Smith Haut Lafitte and myself in making our Grand Cru Classé according to a unique working philosophy – the Bio Precision.
Along with the Château came the Chartreuse: a magnificent 1800 m² house built in 1737 that was unfortunately left unmaintained. So with Daniel we rolled up our sleeves again, as we did 12 years ago to build our daughter Alice's luxury hotel Les Sources de Caudalie in the heart of our SHL vineyard, and embarked on a new construction or restoration project. As we wanted to feel at Chateau Le Thil the warmth of a family home with the comfort of a small palace, Daniel and I decided to renovate the 9 rooms and suites of the Chartreuse keeping their intimate original authentic features. As we live with and for the wine, we added 4 beautiful cosy lounge rooms for tasting and connoisseur dinners, all this in the midst of a classified park where a majestic swan takes care of the lake. Alice and her husband Jérôme, as everybody work in couples in our family, have already opened Château Le Thil to their clients. The success is immediate, with VIP wine amateurs from Asia and the USA asking for a privatization of this beautiful site for a week or few days.