Hong Kong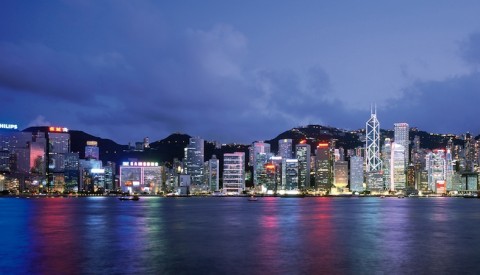 SNAPSHOT
| | |
| --- | --- |
| Population | 7.2 million |
| Cuisine | Cantonese, with a wide range of Chinese regional and international cuisines available |
| Signature dishes | Dim sum, steamed fish, roast pork, crabs in black bean sauce, stir-fried beef with vegetables, double-boiled soup |
| Wine culture | One of the most mature wine markets in Asia with aspirations to become a wine hub for northeast Asia |
| Wine duty | No wine duty and sales tax as of February 2008 |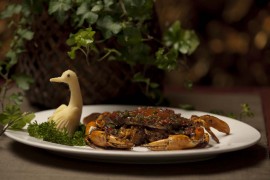 OVERVIEW OF CANTONESE CUISINE
The predominant cuisine in Hong Kong is Cantonese. The term derives from Canton, after the former name of China's Guangdong province, adjacent to Hong Kong. It is generally less spicy, with a strong emphasis on fresh produce, live seafood and a variety of meats. Unusual items in Cantonese fare include chicken and duck's feet and snake. There is also an appetite for rare and endangered species despite trade bans. The mastery of this cuisine appears to be the combination of fresh ingredients prepared in a way that is light yet flavourful. This is often achieved by stir frying in extremely high heat, which requires expanded gas pipes in commercial kitchens. Wok chi, or wok qi in Mandarin, is considered one of the key methods for preserving the freshness in the food while coating the ingredients with just enough sauce to give them flavour. Steaming and roasting, again to enhance the flavours inherent in the ingredients, are equally common.
Hong Kong's main culinary influences originated from three distinct southern Chinese groups and were defined as much by their dialects as their origins: Hakka, Chiu Chow and Dongguan. Styles and flavours varied among the three clans: Hakka's meals were focussed around tofu, salted and preserved meat and vegetables. Chiu Chow dishes used more spices and soy sauce to slow cook their food. Dongguan style, similar to contemporary Cantonese cuisine, used stir-fry methods, with emphasis on fresh seafood and vegetables, without excessive spice. Many of Hong Kong's culinary influences originate from Dongguan such as the short, flavourful sausages, which have become a part of the local diet. From Chiu Chow, the bird's nest soup and soy goose are now local favourites. From Hakka, salt-baked chicken and offal enjoyed in various ways are mainstays of the Cantonese menu.
Although seafood is a popular ingredient in Cantonese cooking, barbecue and roasted meats feature highly in the city's dining repertoire.Hong Kong is one of the highest meat consuming cities per capita in Asia, with a particular penchant for roasted and barbecue pork as well as roasted goose and duck. Chicken is a staple of the diet and is often included in double-boiled soups, which are an integral part of nearly every meal, regardless of the season. It is a common practice to add herbs and ingredients that increase the soup's health benefits or nutritional value. Dim sum is uniquely Cantonese. These bite-size treats literally mean "from the heart", signifying the care with which they were made. Although Cantonese food may be the most popular, nearly all the major regional Chinese cuisines are well represented in Hong Kong, notably Shanghainese, Chui Chow, Sichuan and Beijing food.
FOOD AND DINING CULTURE
Hong Kong is home to Cantonese cuisine, considered by many as the most refined Chinese food. The very best Cantonese chefs are fanned throughout Asia, leading the culinary brigade and spreading the philosophy of freshness and quality ingredients combined with a light, deft touch in the kitchen. At one end of the restaurant scene are noodle or rice porridge shops, cha chaan tengs (Hong Kong style cafés) and dai pai dongs. Cha chaan tengs are fast-food cafés that have Western items like French toast as well as Chinese snacks. Dai pai dongs are open-air food stalls that provide a variety of inexpensive, stir-fried seafood and meat dishes. Many of these humble eateries have evolved from dingy places with plastic fold-up tables and chairs to clean, air-conditioned cafés that compete with MacDonald's. Others like Yung Kee have transformed into famous fine dining Cantonese restaurants for the elite.
At the middle and top end of the spectrum is a wide variety of restaurants that reflects the large immigrant population as well as the foreign expatriates living in the city. Mid-range restaurants have revolutionised the concept of dining outside the home by providing affordable and accessible culinary experiences. The best chefs have moved from private homes to popular restaurants, catering to the need of the growing affluent middle class.
A phenomenon unique to Hong Kong is the increasing number of private kitchens, or speakeasies, which add to the vibrancy of its dining scene. These are unlicensed restaurants in office buildings or private residences that often offer interesting, innovative dishes. Behind the successful private kitchens are passionate home chefs who love sharing their creations and can be found toiling in the kitchen or mingling with the diners. They provide a wide array of cuisines, from innovative fusion, traditional French to authentic Shanghainese, Cantonese and Sichuan food. As unlicensed operators, many allow wine and other beverages to be brought without corkage charge and food prices tend to be fairly competitive. Numerous private kitchens have come and gone, or have evolved into officially licensed restaurants, but the very best remain frequent destinations for local food lovers.