Getting To Know Anne Gros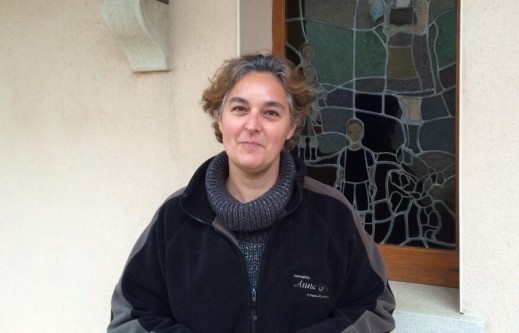 The Gros family became part of the Burgundian establishment in the 1830s when Alophonse Gros married Madame Latour and settled in Vosne-Romanee. There are three key Gros domaines to keep in mind: Domaine Gros Frere et Soeur, Domaine Michel Gros and Domaine Anne Gros. All are highly regarded domaines with Anne Gros wines offering an elegant complexity and unique personality.
Anne Gros is rarely outside of Burgundy, preferring instead to keep close to the vineyard and spend time raising her three children. She has wonderful vineyards which she tends with care in Richebourg, Clos-Vougeot, Chambolle-Musigny and Vosne-Romanée. We had a chance to ask her the following questions:
AP: Asian Palate          AG: Anne Gros
AP: Welcome to Hong Kong. We don't see you here very often. What made you decide to start making trips to Asia?
AG: It's only been a short time since I've been working in Asia – actually when I say Asia, I'm referring to Hong Kong, China, Korea, etc. In fact, I have been distributing to Japan 25 years ago. My first estate in Burgundy is very small, so I couldn't really take any new markets until my second estate in Minervois was born in 2008, when I could finally expand the distribution. But even before then, I realized my wines were already available in Hong Kong by the secondary market. So that encouraged me to select an importer here.
It's important for me to come and see or learn about the local food and lifestyle. When I ship out my wines, I feel like I'm also shipping a part of me out. I want to pay attention to all the stages of the distribution, as I do with all the stages with the production.
AP: What are some of the changes you put in place since you took over the domaine?
AG: 28 years ago, I had everything to build! My father was ill, so I took over the winery. I was 18-20 years old – very young – and at the beginning, the winery was not in a good position. I knew that we had the potential with the appellation and terroir, but we couldn't vinify or distribute because my father used to sell everything to the negociant.
After I took over in 1988, I moved the whole business direction to selling in bottles and created new customers by exporting. In the winery, I implemented a new presser, replaced the old barrels with better ones. So really you can actually say that I did build everything from the start, slowly step by step.
AP: Are there any additional challenges being female and a mother that does not exist for men?
20-30 years ago, it was unusual to have female to be in charge of a winery – it was a man's job. That has changed through time and education. People are more open-minded now, and it's not just for the wine industry. Just in general, more and more women are in important positions in the society now.
However, I think it's still more difficult for women to work in wine as I have three children. The father is very much involved in most aspects of parenting, but as a mother, I'm involved in all aspects of raising my children, including tasks such as looking after them when they're sick or helping them with their school work. So I always have to keep a well balance between work and family. There are times when let's say there's a technical meeting with other winemakers at 7pm on a Wednesday, I can't go because I have my children to take care of. That's when I feel more limited than men working in wine. Other than that, everything else within the winery, I'm totally in control of.
AP: How do you feel about the creeping prices of Burgundy for the highly sought-after domaines? Does that concern you?
AG: Of course I'm concerned because the last three years the crop was very small, so I'm obligated to pay attention to the prices in market and make suitable adjustments to my own wines. This is normal – when the wines are rare, it becomes competitive. But on the other hand, when you know that people are paying attention to your work and fighting over for your wines, it's satisfying and it makes you feel rewarded.
AP: What vintages of your wines do you feel are under-valued/under-rated?
AG: I remember according to the media, the 2003 vintage was not good enough, but I consider it one of the best vintages I've ever made. 1999 was a good vintage too. Back then Bordeaux had great campaigns pushing 2000 because it was the millennium, so everybody wanted that vintage instead, when I think the great year is 1999…..and really, my wines are never under-rated!