Food and Wine With Ada Leung of Cottage Vineyards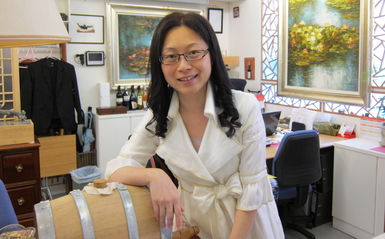 Since she was a little girl, Ada Leung was already a food lover. Then later on when she started to drink wine, she became a wine lover as well and learned that wine could be used to highlight the flavors of dishes. To Ada, good wines should be food-friendly and with this mindset, she founded the Cottage Vineyards in 2006, which is a wine company that is slightly different from others. Cottage Vineyards aims at helping wine lovers "discover the wine world's best kept secrets" by offering great, fine and elegant wines from small to medium-sized wineries that can be paired up well with food. After numerous of tastings and with careful selection, Ada found an array of wines that are delicately crafted by boutique wineries. Ada continues to keep the company in line with its mission statement: to provide memorable and super value wines.
Read on to learn more about Ada Leung's opinions on Asian food and wine pairing.
AP: Asian Palate           AL: Ada Leung
AP: Please briefly introduce yourself and Cottage Vineyards.
AL: I am a wine lover. I began drinking wine at the age of 11 because our family believes that "the wine is the stage where food is to perform on". I am a food lover first and a wine lover second. I love wine because I love food. I think the food tastes so much better when it is paired with right wine. Cottage Vineyards, which I established in 2006, is my dream to help wine lovers "discover the wine world's best kept secrets" and to do so with food. We specialize in the unique offerings of boutique wineries producing memorable wines that are food-friendly and chef-friendly.
AP: Cottage Vineyards is very active in Chinese food and wine pairing events, can you please tell us about the most memorable event you have organized?
AL: The most memorable event we have organized was in 2008: "Yellow Oil Crab and Jura Yellow Wines Winemaker Dinner" featuring a series of Jura wines from Frederic Lornet. This we believe is the world's first Yellow Oil Crab and Jura Vin Jaune Yellow Wine Winemaker Dinner Banquet. It might even be referred as the "Chinese-France Double Royal/Yellow Banquet of the Century". The dinner, besides the special feature Chinese royal/yellow oil crab paired with Vin Jaune of Jura, also included unusual pairings such as Macvin du Jura with giant prawns stir-fried with pungent Tai O shrimp paste, as well as abalone with Trousseau, a mineral red.
AP: The number of visitors in Hong Kong is increasing as this city is not just a wine hub but also a food hub. What tips can you give to our visitors in terms of pairing Cantonese food and wine pairing?
AL: Always think about what wines to pair with the sauces of the dishes, but despite this, the underlying freshness of the basic ingredients need to be brought out because they are paramount in Cantonese cuisine. Thus when going out for a Cantonese meal, rather than white wine, you are better off bringing a very mineral, high acidity, low tannin red such as Limoux Pinot Noir like our Collovrray et Terrier 'Domaine d'Antugnac Côté Pierre Lys' Pinot Noir 2010. This is great with steamed fish because in Cantonese cooking, we always add soy sauce and oil, slivers of chili peppers, ginger and green onion to the fish. Such a sauce requires a light bodied, high acidity red while seafood requires minerality.
AP: Can you please point out one of the most common mistakes you often see in Chinese food and wine pairing?
AL: One of the biggest mistakes I often see in Chinese food and wine pairing is the emphasis of too many crisp, fresh white wines, so the wines become too weak for the food. Many Chinese dishes are cooked in woks, and these are often better with wooded wines or red wines.
AP: In your opinion, what are the wine regions or grape varieties that are most suitable to pair dim sum with?
AL: Although I think Alsace Riesling works well, especially in more limestone soils, as they are oilier, I think Alsace blends in a dry, but not bone-dry style are best. My favorite dim sum wine is the Josmeyer 'Fleur de Lotus' 2011 which is blended with 30% Gewurztraminer, 60% Pinot Auxerrois, 5% Riesling and 5% Muscat. This wine, which smells like a Lotus flower, works well in bringing out the freshness of har-gows (prawn dumplings), and matches the oiliness of the xiu mai's, but can also pair with deep-fried foods, such as shrimp rolls, especially if they have mushrooms inside.
AP: What is the most surprisingly successful Chinese food and wine pairing you have ever experienced?
AL: Luciano Landi Lacrima di Moro DOC 2011 with "water-cooked fish" which is a Sichuan dish served in a numbingly spicy, oily sauce made with various spices. This is a great wine to highlight the floral character of the Sichuan hua jiao (flower pepper) and really caresses the fish in the dish.