Discover Mexican Flavors In Hong Kong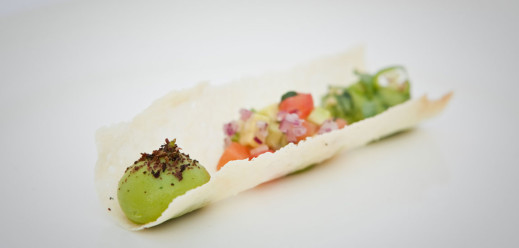 By Jeannie Cho Lee MW
Spanish restaurants have taken Hong Kong by storm in recent years. Restaurants like Catalunya and 22 Ships have created interest and broadened the popularity for Spanish cuisine. However, great Mexican restaurants, despite their popularity in cities like San Diego and San Francisco have yet to reach our shores in Hong Kong. Most are fast food taco joints or worse yet, try to pass as Mexican restaurants but use canned ingredients. Socialito has good, reliable Mexican food but nothing that compares with the best in Mexico City or in the major cities in California.
That is why I was so keen to taste the food of Chef Enrique Olvera from Pujol restaurant in Mexico City. Olvera has a pop up restaurant at the Landmark Mandarin Oriental from 20th to 22nd of January 2014. Pujol restaurant is ranked 3rd in San Pellegrino's 50 Best Restaurants in Latin America and Olvera has a strong following in both Mexico as well as in the United States. His philosophy is appealing to the modern diner. He says, "I want my guests to feel good after eating my food. That is why I hardly use any meat, if and when I use meat, they are accents rather than the main ingredient. I focus on organic, locally produced, healthy products that taste delicious."
Olvera's six-course tasting menu was an eye-opener. All of the flavours of Mexico – from smoky to chili flavours are there, but without any heaviness and strong heat. The onion ring caper-tomato captured all the wonderful flavours of these three key ingredients but without one dominating the other. His smoky grilled baby corn with a sauce laced with coffee and chili was delightful. The bean soup with mint and cheese had hints of the familiar Mexican refried black beans but none of its weight and density. The highlight of the six-course meal was the Mole Madre – a mother sauce reheated for years containing 100 or more ingredients. Like the master stock in Cantonese cooking, this mole is constantly refreshed but has as its base, a thick, sweet fermented soy sauce-like flavour laced with an array of spices.
The meal was paired with 2 different Mexican wines from Monte Xanic, a winery in the Valle de Guadalupe, an important wine region in Mexico. The 2012 Chenin Blanc and Colombard blend was wonderfully aromatic with notes of jasmine and sweet apricots. The wine had enough personality and energy to pair with the strong Mexican spices and was  perfect with the first dish of onion ring caper-tomato stew. Monte Xanic's Syrah was more disappointing – the tannins were coarse and Syrah's black pepper flavours were lost under a jumble of jammy, cooked fruit notes. However, with the strong Mole Madre, the sweetness of the wine contrasted well with the intense fermented flavours of the mole.
What was refreshing about Olvera's cooking was his emphasis on fresh, light ingredients and lots of vegetables. He believes that chili peppers should be used for its flavour not its spiciness. "There are so many great varieties of peppers and they all have unique flavours. Too often I see people using peppers for their spiciness. For me, when a pepper is very spicy, I use it only sparingly otherwise you overwhelm any flavour it has to offer."
Chef Olvera is not only well versed in Mexican cuisine and its ingredients, he also knows his wines. Out of the 250 wines on his restaurant's list, about 100 of them are from Mexico. He recommends the following Mexican wines: Casa de Piedra, Adobe Guadalupe, Tres Valles, Pijoan, Mariatinto, Icaro and Tomas' Barbera. I will be looking out for these wines, both in Hong Kong and when I next travel to Mexico.