Dining in Qingdao: Interview with Marc Cibrowius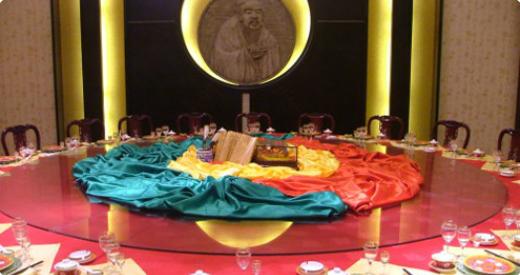 In our continued investigation of the food and dining culture in Qingdao, Asian Palate (AP) had a pleasant chat with Marc Cibrowius (MC), the executive chef of Shangri-La Hotel Qingdao. Chef Cibrowius understands many of the nuances of local cuisines from all over the world, having had 26 years of international culinary experience from Europe and the Middle East to Asia. Prior to his appointment, he was the executive chef at Shangri-La Hotel Hangzhou and has worked with Shangri-La Hotels and Resorts since 2006.
AP: Asian Palate; MC: Marc Cibrowius
AP: What are some, if any, of the trends in modern Shandong cuisine?
MC: Shandong cuisine consists of local flavour of Jinan, the coastal area of Jiaodong and Kongfu cuisine. Jiaodong cuisine primarily features seafood and focuses on "original flavor" (yuen wei) style of cooking which is characteristically light, fresh and simple. Ingredients in Jinan cuisine are varied but generally the preference is to use poultry and livestock. Overall, tastes are gradually changing to a lighter style.
AP: How would you describe the palate preferences of the Shandong style?
MC: Shangdong cuisine is a balance of seasoning between saltiness and freshness. The main characteristics are fresh, tender, savoury and crisp, moderated with light and cream soup. Always, there is the use of scallion seasoning. Soy sauce and vinegar are essential seasonings, followed by the salt, sugar, scallion, ginger and garlic.
AP: How popular are other types of non-Chinese cuisines?
MC: Western or international cuisine is becoming more and more important in this area as the international community continues to grow. Italian cuisine appears to be the most requested and visible style of western food in this area. Diners are demanding authenticity, fresh products from the local market as well as imported items like olive oil, vinegars or different kinds of cheese.
AP: Can you describe some of the popular types of snacks or fast food?
MC: Shandong pan-fried cake, Dezhou braised chicken, Zhoucun fried pancake, Shanxian County mutton soup, and fried dumplings.
AP: It has been said that a chef's soup is his signature in Lu cuisine. Who are some of the most notable chefs past or present and can you describe their signature styles?
MC: Shandong cuisine focuses on the modulation between light and cream soup. In recent years, notable chefs include two Shandong great masters: Gao Bingyi and Cui Yiqing. Gao Bingyi is good at cooking seafood. His signature dishes include Pot Roast Duck, Wok-fried Sliced Sea Whelk in Oil and Braise Clam with Dried Chili. Cui Yiqing receives praise for the flavours of his dishes which are savory, fresh, tender, and pure. His signature dishes include braised sea cucumber with scallion, stewed pucai in cream soup, and braised pig intestine with special sauce.
AP: What are some of the main features of a Confucian Banquet (Kongfu)?
MC: Main features of a Confucian Banquet are fine workmanship, complex procedures, strict attention paid to tableware and the naming of each dish. Confucian banquets can be tailor-made for an event, but it is not popular for modern Shandong residents.
AP: As Shandong province is the top wine-producing area of China, can you describe the popularity of wine versus beer?
MC: Shandong wine culture has a long tradition and is gaining more and more recognition in China and overseas. The main production of Shandong wine is generally for consumption by the domestic market which has been increasing in demand. The beer culture in Shandong also has a long tradition but is much more prominent on the international market. You can find Qingdao beer all over the whole world. It is representative of the China beer culture.