An inside look at Japan's wackiest food trends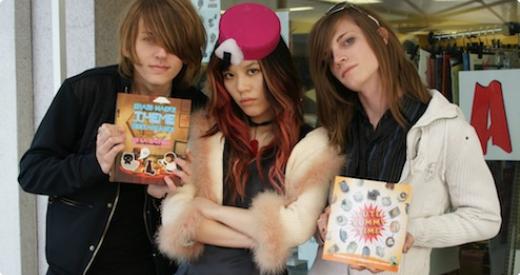 La Carmina is not one to shy away from the camera. An international travel host, blogger, and author who published her first book at the age of 19, La Carmina knows everything there is to know about Japan and it's quirky culture. The self-made star recently published her third book centered on Asia's growing obsession with themed restaurants. The Asian Palate team stopped by for a chat with the author of Crazy Wacky Theme Restaurants: Tokyo.
AP: So tell us La Carmina, how did you become a foodie?
LC: My parents are from Hong Kong, so I was born a foodie! When I was a child, I often travelled around Asia with my family, where I fell in love with spicy Szechuan noodles, sashimi, bibimbap… I also had the good fortune to grow up in Vancouver, Canada, a hub for diverse and delicious food. My eating horizons expanded when I moved to NYC to attend Columbia University. When I was 19, I inked my first food book deal.
AP: What happened next?
LC: I enrolled in Yale Law School but realised my heart wasn't there. I began blogging about my passions — Jpop culture and food – and that led to two more books: Cute Yummy Time for Perigee/Penguin USA  and Crazy Wacky Themed Restaurants for Mark Batty/Random House . Next, I got into food-related TV work: cooking cute bentos on The Today Show and taking Andrew Zimmern to a jail-themed restaurant for Travel Channel. The more I travel, the more I realize there's so much I have yet to taste — and I'm raring to dip my fingers in the bowl.
AP: Tell us more about this themed restaurant craze
LC: Imagine sitting in a jail cell and being attacked by screaming monsters. Or eating a bonsai-shaped cake delivered by ninjas. How about having a French maid fall to her knees and call you Master as she spoon-feeds you curry? These are only some of the wild and weird theme restaurants found in Asia, especially Japan. They're full-fledged fantasy experiences that allow diners to pretend they're in Wonderland, or Dracula's castle, or the land of the fairies.
AP: Sounds bizarre…people like this why?
LC: It's an exciting way to escape mundane life and have a memorable evening with your friends.The very first theme restaurant opened in Tokyo about ten years ago; it was a haunted jail experience. Maid cafes also appeared around this time to cater to Akihabara's anime and manga-obsessed "otaku". The trend took off fast: there are now dozens of theme eateries in Japan, as well as in Hong Kong, Thailand, Taiwan and other parts of Asia.
AP: Do you think style takes place over substance in these restaurants?
LC: Initially, the focus was on the entertainment and not the food. However, as more theme restaurants appeared and the competition stiffened, the quality of the meals has improved immensely.
AP: You are recognised for your eccentric Harajuku fashion…how does this interact with food and what are the results?
LC: I'm a "creature of the night" – and I love putting up silly videos on my Youtube channel. So I thought, why not create a cooking show with dark twist? That's how my popular web series, Death Cookbook, began. In every episode, the Cooking God (played by a giant yellow inflatable bear) helps me make an all-black recipe (such as black sesame ice cream) and defeat my enemies in stovetop battles. Come check it out ; I'm sure you'll have a good laugh!
To find out more about La Carmina, visit www.lacarmina.com
Photos courtesy of La Carmina