Part II: Hong Kong's Best Restaurant Wine Lists
---
---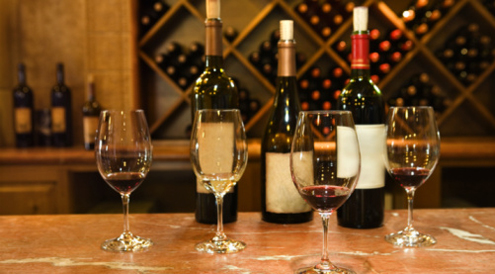 Only ten years ago, I would have had to rack my brains to find more than a dozen great wine lists in Hong Kong. Now, with wine duties opening the floodgates to an increasing number of specialised wine importers offering a much wider selection of wines, a growing number of Hong Kong restaurants have fantastic wine lists. In my last week's column, I outlined the following criteria used to evaluate restaurant wine lists ¨C excellent variety & choice; good price & value; strong core offering; innovative & unique selection; food and wine considerations. Using the above criteria as a checklist, below are the top eight best restaurant wine lists in Hong Kong:
L'Atelier Robuchon It is easy to be intimidated by the 126-page wine list. The best way to navigate this enormous selection is to get some tips from the restaurant's very knowledgeable sommelier, Benoit Allauzen. In terms of comprehensiveness, this list is hard to beat. From deep vintages of Bordeaux first growths to a wide range of Californian cult wines, this list has it all. Compared to five star hotel lists, the markup on the wines here are more reasonable. The list's strength lies in its depth ¨C no other wine list has as many top collectibles in nearly all the great vintages. This restaurant has a very strict no BYOB policy ¨C and why would you bring your own when there is such a wealth of choice?
Cepage If I had to pick only one favourite wine list in Hong Kong, it would be Cepage. Many wine lists in Hong Kong have verticals of top Bordeaux but very few offer the depth in vintages for Burgundy except at Cepage. That doesn't mean other regions are ignored – there is plenty of Bordeaux, Rhone and other French wines to choose from. Interestingly, Cepage's Bordeaux selection is listed by vintage rather than region while their Burgundy list is organized by producer rather than appellation. For Domaine Leflaive lovers, there are 3 full pages dedicated to this producer with Chevalier Montrachet and the Batard Montrachet going back to the mid 1980s. Most importantly, the markups on the wines are extremely reasonable, setting a new benchmark on restaurant wine pricing in Hong Kong. The selection has clearly been chosen by a thoughtful, intelligent and passionate wine lover.
Amber at the Mandarin Landmark Hotel This is an impressive and thoughtful wine list with a particular strength in Champagne and Burgundy. There is a good selection of Bordeaux but the list goes beyond traditional offerings and devotes substantial space to Rhone and Burgundy. I love their concept of selling wines by the carafe (500ml) and also appreciate their selection of half bottles. The only drawback is their high pricing, which follows the standard high markups found in fine dining establishments located within five-star hotels.
Sheraton Oyster and Wine Bar This is a well-composed wine list – thoughtfully laid-out by grape variety and listed by price. A unique feature of the wine menu is that each wine listed is accompanied by tasting notes. The selection is not that extensive, but the list argners points for consumer-friendliness, reasonable pricing and innovative presentation. A wonderful selection of nearly 40 wines by the glass is perfect for those who like to experiment and try many wines.
The French Window This is an example of a wine list that confirms 'small can be beautiful'. A twenty-something page wine list may seem to pale in comparison to a hundred plus page list found in many fine dining restaurants, but look closely and there are plenty of discoveries. This is a thoughtful selection that embraces quality featuring many small boutique producers such as Le Moine and Marc Colin in Burgundy and Weinbach in Alsace. This restaurant gets top marks for reasonable pricing and each wine category such as Chablis has both expensive (over $2,000) as well as more modestly priced options (under $500).
Petrus at the Island Shangri-la Hotel For many years back in the 1990s, Petrus had the best restaurant wine list in town. Since then, other restaurants have caught up and even surpassed Petrus. There is a staggering 34 vintages of Chateau Petrus going back to 1928 and much of the list is devoted to cru classe Bordeaux. The depth of back vintages is fairly impressive and more than ten vintages are on offer from many top chateaux. Other strong sections include Australian and Californian reds and vintage champagne.
Cuisine Cuisine at the Mira Hotel This is a compact but very well chosen selection of wines with the food and wine pairing clearly in mind. Reading through this list, the selection makes sense with Cuisine Cuisine's Cantonese menu – there are many crisp white wines from Alsace, Germany and New Zealand that pair well with the seafood specialties on the menu. There is also an excellent selection of Rieslings and Pinot Noirs from around the world. The wines by the glass are well chosen with over twenty different wines on offer.
Man Wah at the Mandarin Oriental Hotel It's great to see more and more Chinese restaurants embracing wine and taking into consideration its compatibility with the food menu. Man Wah's wine selection is compact, listed over 30-pages with one page devoted to ten Chinese spirits. Compatible with the light, elegant seafood-based dishes on the menu, the wine list includes a very good selection of red and white Burgundy. Kudos to the list for going beyond Bordeaux and traditional reds and offering a good selection of Loire Valley whites as well as interesting whites from Greece, Slovakia and Hungary. Overall, this is a thoughtful wine list with the one drawback being the high markups.
Reprinted with permission from South China Morning Post