Macau's Evolving Dining Scene
---
---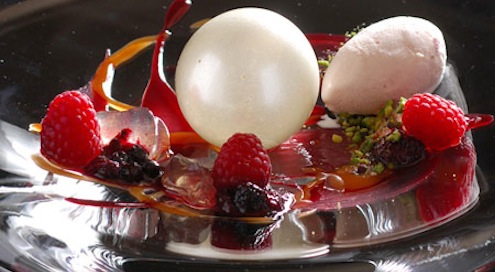 The first time I visited Macau in 1994, my parents begged me not to go. They were worried that as a South Korean I could potentially be kidnapped by North Koreans that operate in Macau. While these fears seem ludicrous now, Macau in the 1990s was a very different place. Alarming news stories supported my parents' fears: Gun fights, bombings and murders linked with the triads were regularly reported and many large international corporations warned their employees about the dangers of visiting Macau. North Koreans have long used Macau as a base – the former leader's eldest son, Kim Jong Nam, has been based in Macau for the past decade; in 2006, the United States was successful in pressuring Macau's Banco Delta to sever ties with North Korean entities found to be money laundering and counterfeiting.
I enjoyed the more laid back atmosphere of Macau back then compared to the fast pace and energy in Hong Kong. Macau was a sleepy little Portuguese colony with quaint faux antique shops, charming colonial buildings and a seedy, smoke-filled casino scene. There were no Michelin starred restaurants and fine dining centred around hotels such as Mandarin Oriental, Hyatt Regency and Bela Vista, the current residence of the Portuguese Consul. I did try popular stand-alone restaurants like Fernando's, which has a lively atmosphere with enjoyable but unexceptional food. 
The last decade has seen Macau transformed from a quiet, somewhat dangerous city, to a safe, vibrant international gambling mecca. Within a year, entire resorts like Galaxy Macau with over 2,000 rooms sprang up from the earth. Tourism in Macau is booming, thanks to the well-heeled Chinese. In 2011, Asian visitors to Macau accounted for 98% with nearly 60% of the 28 million total visitors being from mainland China. Both the wine and food scene started to change from the moment Macau surpassed Las Vegas in 2006 in gambling revenues. Add to this the elimination of wine duty in August 2008, and the result is a complete transformation of the dining culture.
Robuchon was a pioneer in the fine dining scene when it opened at Hotel Lisboa in 2001. I made annual pilgrimages to the restaurant since it opened, considering it a bargain, both for food prices as well as for wine. There was no need for reservations then, even for Friday or Saturday evenings. Often, my table was one of just a few that were occupied. That was ten years ago but now the prices for both food and wine have caught up to Hong Kong standards and there are fewer and fewer bargains to be found in the restaurant's extraordinary 322-page list with nearly 7,000 wines. 
The current 2012 Michelin guide has allotted more stars to Hong Kong and Macau restaurants than those in London. With many glittering new resorts and hotels competing at the fine dining level, there are now numerous options to enjoy a great meal. The growth in fine dining restaurants coincided with the elimination of wine duties and since 2008 wine lists have improved tremendously. In addition to the restaurants at the Lisboa hotels which share a common master list, there are many new Macau restaurants that offer a good selection of wines such as Canton at the Venetian, Aurora at Altira and Horizons at City of Dreams. 8-month old Galaxy Macau, where I am the Wine Consultant, also offers an extensive range of over 500 wines including more than a dozen wines made in Asia.
One of the major challenges for the food and beverage industry in Macau is the short stay of its visitors – still below 2 days per person. The 28 million visitors that came through the city in 2011 had maybe two sit-down meals during their brief stay. It is much more likely that they spent the vast majority of their time on the gambling floor, with a few quick bites in between and perhaps a short snooze before heading back to their home countries. Despite the huge investment in restaurants, wine cellars and knowledgeable staff, it is still quite easy to book a table at most of the top restaurants in Macau. Visitors are in a rush to spend maximum time gambling while wine-loving locals are spoiled with endless free invitations to fine wine dinners.
It is a tricky time now to be running a fine dining restaurant in Macau. Obtaining good staff, especially from overseas, is extremely challenging since the government has restrict regulations and quotas for issuing work visas and hiring non-Macanese, especially for gaming. The fast food end of the business is doing well with gamblers in a rush to be in and out within thirty minutes. However, at the top end, many fine dining restaurants that employ top chefs and sommeliers complain that turnover is low compared with other international cities.
What the resorts and the F&B industry is hoping for is that along with being a hot gambling destination, Macau will also attract families and longer-term holiday-makers. Entertainment has improved along with the dining scene and I now regularly take my family over to Macau for long weekends to enjoy concerts or shows like House of Dancing Water and Cirque du Soleil. We try out new restaurants and appreciate that we can get a table nearly anywhere we want. With the ease in which we, as Hong Kong residents, can zip through immigration, we are in the best position to take advantage of all that Macau now has to offer. 
Photo credit: Travel and Leisure Asia – Robuchon a Galera/ Hotel Lisboa
Reprinted with permission from South China Morning Post