Gourmand Awards - Pleasant Surprise
---
---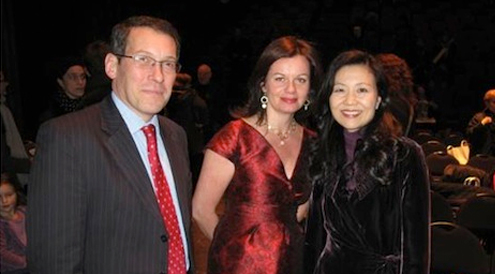 It was completely unexpected. We arrived at Le Centquatre just minutes before the Gourmand Wine Book Awards ceremony began. We were late, but inside the cavernous building, it was impossible to find where the ceremony was taking place. There were no signs and no guides to point us in the right direction and room. The food awards had just been given out and the Master of Ceremonies had already started when we finally found the right room, rushed in and sat in a row of empty seats.
I had just taken my coat off when I heard my name being called. There was music and someone saying, "Asian Palate, the best book in the world on food and wine pairing by Jeannie Cho Lee." Pleasantly surprise, I went to receive my award from Edouard Cointreau, President of the Gourmand Awards. I knew that the book was short-listed among the top four, but I did not expect it to win. My trip to Paris for personal reasons coincided with the Gourmand Award dates so I was fortunate to receive the award in person – a heavy glass inscribed trophy. I was thrilled once the news sunk in and it was a wonderful start to the Year of the Tiger. The Paris book fair which was held during the days following the Gourmand Awards was as chaotic as the awards ceremony. The tasting area from which I was to have a book signing and presentation was in a high traffic area which was not enclosed, so it was very difficult to engage an audience. One of the key attractions at the fair was the popular chef Harumi from Japan.
The Gourmand awards was presided by Edouard Cointreau, yes, a scion of the well known spirits brand. I had the opportunity to speak to him after the award ceremony and he was very proud of the Gourmand Awards for their reach and ability to attract over 6,000 books a year published around the world on food and wine for consideration for the award. Edouard is the President of Gourmand Awards but is also involved in the Paris Food and Wine Book Fair which follows immediately after the awards.
What surprised me was that Edouard was based in Beijing and not in France! He is married to a Chinese woman and they have a one year old baby. He was very enthusiastic about the potential of China and all the projects he was involved in, not just in the family spirits business, but also in television production.
I am thrilled that Asian Palate won the 'Best Book on Food and Wine Pairing in the World', a slightly embarrassing, grandiose title. The book fair was worth a well-spent afternoon chatting with specialist wine publishers to see how the book publishing marketing was faring in different countries. A big thank you to Gourmand for reviewing my book so favourably!