Wine Consumers' Rights
---
---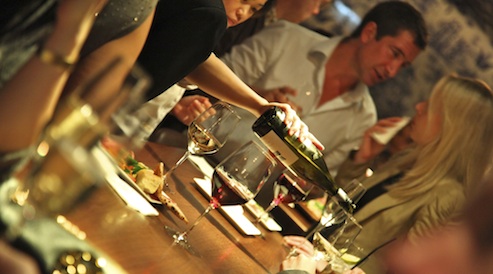 My daughter's social studies project last week was an unusual assignment: Write the "Declaration of Independence" from the perspective of sea creatures. It included a statement of sea creatures' rights to life, liberty and freedom from land creatures, namely human beings.
As I was chuckling about the list of rights which sea creatures were entitled to and their long list of grievances, it occurred to me that I should create my own list of "Wine Consumers' Rights" when dining out at a restaurant. Our Rights: Right to have a range of wines within our budget – Not all of us have large expense accounts, but some restaurants in town discriminate against those who don't. There are restaurant wine lists in Hong Kong where every single wine listed has a four-digit (HKD) price tag. Sometimes we are in the mood to splurge but sometimes, a simple wine with a modest price tag is what fits the mood and the occasion, as well as our budgets.
Right to more than just red Bordeaux – Flipping through pages and pages of Bordeaux is utterly uninspiring and frankly out of date. In Hong Kong we are spoiled for choice with importers that number in the hundreds who are increasingly bringing in interesting wines from less classic regions and from small producers who are passionate about what they do. There is no excuse to be so firmly rooted in the wine comfort zone that is red Bordeaux.
Right to an up-to-date wine list – It is maddening to discover that the wine you want is actually not available although it is clearly listed on the wine menu or the vintage has changed. For me, the decision to order a certain wine from a specific vintage is usually not taken lightly. So to be told that the wine is not available is the same as telling me that I just wasted the last 10 to 15 minutes of my time. Just as a restaurant's food menu should be accurate and up-to-date, the wine menu should be similarly respected.
Right to good glassware – Ironically, this issue of good glassware is less of an issue in cities like Hong Kong, Shanghai or Singapore as it is in Paris, Florence or Madrid. Being relatively new to wine, the Asian cities that have embraced wine have had the aid of savvy glass manufacturing salesmen that stocked our kitchens and bars with decent size glasses with suitable bowl shapes. In the cafes throughout Paris, one struggles to appreciate the aroma emanating from a small goblet that is filled to the rim. Forget swirling and smelling the wine in these thimble-size glasses, just swallow. The Europeans have a ganbei culture all their own.
Right to correct serving temperature – This is my one constant grievance in restaurants around town: The reds are too warm and the whites are too cold. When I ask for an ice bucket for my red wine, I am often given dumb-founded stares. Reds should be 16 to 18 degrees Celcius, not more; whites between 10 to 12 degrees Celcius. So much of our appreciation of a wine stems from its temperature – it directly affects how we enjoy its aromas since different flavour compounds are released at different temperatures. Our perception of its flavour intensity, acidity and tannins are also affected by the wine's temperature.
Right to inspect the wine before it is opened and served – It does happen that what was ordered is not what the serving staff brings. The mistake is often not intentional since many waiting staff in Asia have not gone through any formal wine training program – the labels may look the same but they may not read the fine print that says "Reserve", "Vieilles Vignes" or "Special Selection". Right to taste the wine (even if you are a woman) – I often choose the wines when dining with my family and close friends, but even after the sommelier takes the order from me, when he fetches the wine and opens it, he walks over to the man in our table to taste. This happens occasionally, but often enough to remind me that the wine world is still very much a "man's world".
Right to refuse the wine if it is corked or faulty – I have retold the story many times of the former sommelier at L'Atelier Robuchon who declared that "this is the way the Chablis is supposed to taste" when I complained that it was corked; he did not even bother to nose or taste the wine himself! That type of rude arrogance should not be tolerated. If you are certain that a wine is corked (smells of wet cardboard and decaying mushrooms) or it is oxidized and smells of Madeira or apple vinegar, then ask for a new bottle.
Right to ask questions about the wine's provenance — When ordering a mature or very expensive bottle, it is your right to know its history. It is sensible to ask how the restaurant came to acquire the special bottle, where it was sourced and how it has been kept. Inspect the wine's levels (ideally, the wine should come up to the neck) and look for clues on the bottle and label of any wear and tear. All of these details are clues to the condition of the wine. Generally, less movement and exchange of hands, the better the wine's condition.
Reprinted with permission from the South China Morning Post