Hong Kong Wine & Dine Festival 2013: New Location and More Visitors Expected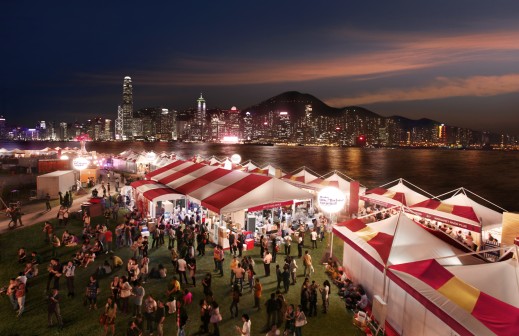 Over 200 wine merchants of Hong Kong are in full gear preparing for the fifth Hong Kong Wine & Dine Festival, which occurs during October 31st to November 3rd. The inaugural year of this event was named Top 10 International Food and Wine Festivals by Forbes Traveler, and this year they will be moving to a new location at The New Central Harbourfront. 
Asian Palate spoke to a few of the exhibitors to find out what they think about this new location. Alfred Lai, the Managing Director of The Gourmet Wine Club, a local independent wine merchant, said, "This new location is more accessible and convenient to the visitors, particularly those consumers who work in Central or Admiralty, presumably with higher incomes. So I expect to see more followers of expensive fine wines."
The Trading Director of Watson's Wine, Jeremy Stockman, is also very excited about the new location. "The new location will be fabulous! From a visitor's point of view it is much more convenient to get to and from which should ease congestions and make the whole day more relaxed. With MTR, bus and taxi accessibility, plus a logical flow from entrance to exit, and then surely having one of the greatest restaurant areas in the world on the doorstep to continue on to."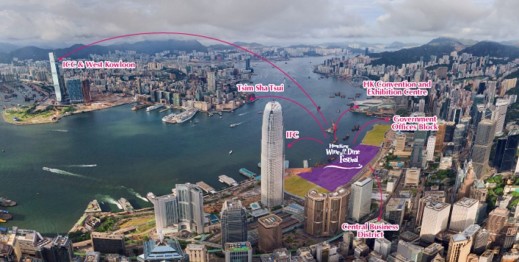 Sometimes, wine and/or food fairs might lose its novelty after a few years for both the consumers and exhibitors, especially when it is the same structure, people and products every year. However, the Hong Kong Wine & Dine Festival just seems to get more and more fun and eventful each year.
New for 2013, a premium area called Tasting Room, will exist where visitors can appreciate wines with meals specially prepared by master chefs, and attend wine and food master classes or talks from prestigious industry experts. The other six wine zones include: Country Pavilion (fine wines and delicacies from Europe), A-Lister Zone (award-winning wines), Everyday Wine Zone (popular tipples, including winners of Everyday Bordeaux 2013), Party Wine Zone (cocktails) and Riedel Grand Tasting Pavilion (premium wines, including Decanter Asia Wine Award winners).
Stockman revealed, "Generally the Hong Kong Wine & Dine Festival Committee this year has insisted that all booths go up another level in terms of quality and so I think that all wines being poured will be at a higher level, and certainly at a higher price point."
When asked what keeps Watson's Fines Wines interested in participating in this wine fair, Stockman explains, "We see this festival as a great opportunity to engage with our customers and meet new customers who enjoy fine wines. We are located in the Riedel Grand Tasting Pavilion area. Here we have more time to showcase the wines and chat with tasters. For Watson's, besides Bordeaux of course, we will be showcasing some of the great wines from Italy, Napa Valley, Australia, Chile, including the fabulous 2010 Seña"
The Gourmet Wine Club is a returning exhibitor and will also be having its booth in the Riedel Grand Tasting Pavilion, which only serves wines that are $900 or above in retail price. Their approach is to pour wines of the Bordeaux 2010 vintage that many drinkers have heard about but have yet to taste them. They include Chateau Pontet-Canet, Chateau Montrose, Chateau Lynch-Bages and Chateau Pichon-Baron.
Jebsen Fine Wines also prepared some very enticing wines for the visitors. Not only will they be presenting some of their most prominent brands, along with that, wines that are rarely known but in good quality will be available as well. For example, large formats of Chateau d'Esclans will be poured. This rosé is known as the most expensive rosé in the world produced from Provence.
The Hong Kong Wine & Dine Festival is one of the best wine events of the year and this year promises to be bigger and better. Copyright © 2017
Jeannie Cho Lee,
All rights reserved